By
Carl the pooch
Translation Rights | Sep 8, 2020
Carl's Blog #1: Notes from the Underhound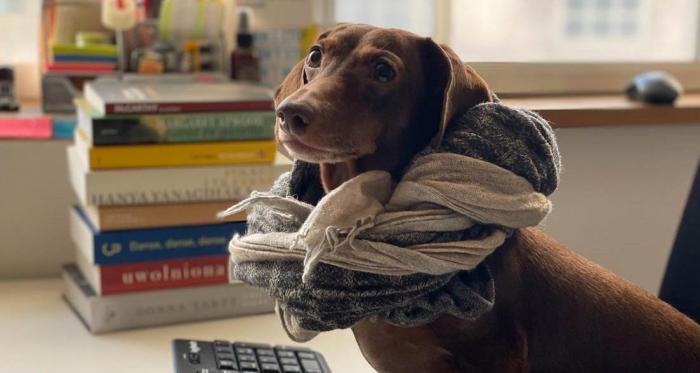 Welcome, readers, to the inaugural post of Carl's Blog.

I am not usually one for the spotlight, preferring to pull the strings from the comfort of my orthopaedic dog bed. Nevertheless, when the Curtis Brown Translation Rights team approached me to become the new face of the department, I — the charismatic, well-read, handsome pooch that I am — was humbled to accept.
I'll be (remotely) sitting down with members of our Translation Rights team to sniff out their lockdown experiences, their highlights from the past year at CB/ICM, and what they're most looking forward to in the year to come. And, as we pass into October, I'll be sharing exclusives on the CB/ICM catalogue titles for our first ever Digital Frankfurt Book Fair (aka 'Fakefurt 2020') — so make sure to watch this space.
Kicking off with the first member of the team, I pow-wow with the newest member of our team, Australia's very own Peppa Mignone.
Carl: Hi Peppa. How are you?
Peppa: Hi Carl. I'm good thanks, how are you? I love your scarf, by the way.
I'm very well, and thank you! It's Pucci. So how did you come to join Curtis Brown?
I've been at CB for just over a year now. I started last summer as an intern before
getting supremely lucky and nabbing a permanent role as a Rights Executive,
assisting Helen Manders on the ICM list.
I like Helen, she gave me my copy of Mansfield Bark. Speaking of books,
what have been your highlights from the last year?
I've loved seeing the renewed interest in Toni Morrison's work over the last few
months. With everything going on in the world right now her work is as relevant
as ever and it's great to see more young people discovering her, perhaps for
the first time. Material has also just delivered for Michael J Fox's new memoir
No Time Like the Future, which I'm so excited to tear through!
I'm so excited for that one, but I'm not really a fox person. Are there any books you work on which you wish people knew more about?
I loved Richard Ford's latest collection of short stories, Sorry for Your Trouble. In true Ford style, the writing is impeccable and it is a beautiful portrait of love, grief and ageing in America.
Richard Ford is fantastic, I loved The Sportswriter — although strangely people don't believe that I've actually read it.
I always thought you were more of a non-fiction fan, maybe that's it?
Hmm, perhaps. What else have you read and loved during lockdown?
I've just finished reading The Falconer by Dana Czapnik and really enjoyed
it. I read in a review somewhere that the protagonist Lucy was being called a
literary cousin to Holden Caufield and I just cannot get that comparison out of
my head. It's a really sharp coming of age story set in New York in the 1990s
about love and friendship and feminism. This book is very on brand for me, but
nevertheless I loved it!
Sounds fantastic, I'll ask Jodi to pick up a copy for me in Waterstones. Thanks so much for speaking to me today Peppa!
My pleasure, Carl.