By
Carl the pooch
Translation Rights | Sep 15, 2020
Carl's Blog #2: Jonathan Strange & Mr Doggerell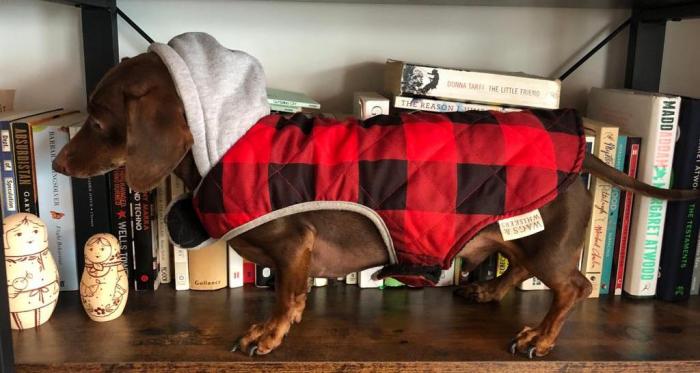 Ah, autumn. Was it Keats who described you as that 'season of mists and mellow fruitfulness'? An apt description, although I must confess Keats was never my favourite Romantic, as I've always preferred the passion and elegance of Lord Byron — particularly for his 1808 masterpiece, 'Epitaph to a Dog'.

This week it is my honor to sit down with the Cher of translation rights, Kate Cooper.
Carl: Hello Kate, it's lovely to see you.

Kate: Hi, Carl — what a nice Zoom background you have, very tropical.
This? Actually, it's not a background, I'm in the Seychelles.
Oh.
So Kate, tell us what we all want to know — how long have you been at Curtis Brown?
I've been here since the time we used telex machines and carbon paper and have seen many changes during the years. I began as an assistant to Uli Rushby-Smith, who then ran the department; I think she must have been impressed by my enthusiasm and love of books rather than my typing skills, which were somewhat rudimentary...(they've improved over time). I became an agent and then took over running with department, first with Betsy Robbins, and now with Jake Smith-Bosanquet.
Impressive, though I am 63 dog years old, so let me know when your career has lasted as long as mine has.
What have been some of your biggest highlights from the past year?
There are so many titles to choose from but among the highlights are Susanna Clarke's masterpiece Piranesi, which publishes today! It has now sold in seventeen markets with more deals in the pipeline. I was a huge fan of Jonathan Strange & Mr Norrell, so was very excited when this delivered. It's also been brilliant watching Lisa Jewell's ascending the New York Times bestseller list and seeing her list of publishers grow. And it's always an event when John le Carré delivers a new novel — Agent Running in the Field has just been published in France to universal praise and is flying off the shelves there.
Hmm, I'm not really one for running in fields — I've only got little legs. Are there any titles you wish had sold wider than they have?
This is like choosing a favourite child: impossible. However, two titles that I would love to be picked up in more territories are Rosamund Lupton's Three Hours and Katherine Scholes' The Beautiful Mother. They are very different, one being a contemporary thriller set in a school in the West of England and the other taking place in 1970s Tanzania. However, they are both immersive reads that tug at the heartstrings and stay with you long after you've reached the final page.
And what have you enjoyed reading outside of work?
I've recently read The Inheritor's Poison by Sandra Hempel, which combines Victorian social history, true crime and the history of forensics. I'm enjoying The Binding by Bridget Collins, which I picked up at Waterstones Piccadilly just before lockdown in what now seems like another world. I'm looking forward to reading Migrations by Charlotte McConaghy, which was recommended to me by an editor at Frankfurt last year and has just been published.
Fantastic recommendations. Thanks for speaking to me today, Kate.
No problem, have fun in the Seychelles!