By
Carl the pooch
Translation Rights | Sep 22, 2020
Carl's Blog #3: The Handmaid's Tail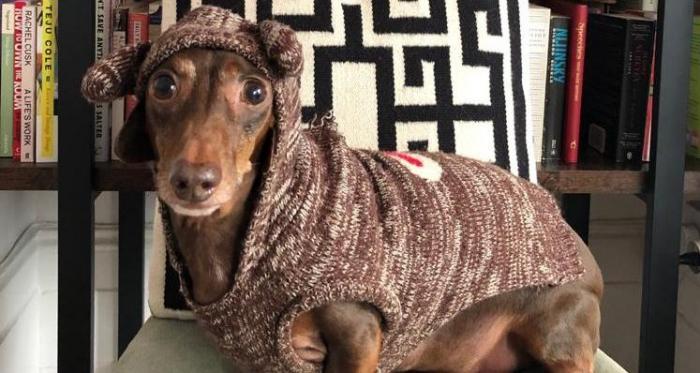 Welcome back to another installment of my blog - and yes, that's installment with two 'l's. I am an American dog, after all!
I've been so touched by all of the fan mail my blog has garnered, and I want my readers to know how much I appreciate your kind words. However, if you want to go beyond kind words, my favorite treats are: any kind of cheese, cooked chicken bones from a city sidewalk (doesn't matter which city), and peas, hand-fed to me one-by-one.
This week it is my honor to sit down with the Salford Sensation himself, Cal Mollison.
Carl: Hello, Cal.

Cal: Hi Carl, how have you been? It feels like ages since I've seen you.
Tell me about it! I truly miss my days in the office, lounging around while everyone else worked, being adored and fed treats at regular intervals. Although I know you're allergic to animals and can't often pet me, I always appreciated catching your loving gaze from across the room.
Anyway, enough about me, let's talk about you! How did you get started in publishing?
When I first left university, I had no idea what a literary agency was, but I did have an idea that I'd love to work with books. One day I was working in a particularly awful PR job when I picked up My Salinger Year by Joanna Rakoff (I was going through a Salinger phase and she worked for his agency) and inside I learnt about the world of authors and agents. I immediately began looking for publishing positions and found one volunteering at the Society of Young Publishers. There I learnt more about the industry and did internships at John Murray and C&W. That experience was enough to land me a job at Curtis Brown, where I've been for over two years now. I work with Katie McGowan and handle rights in largely Central and Eastern European countries, though I also cover territories outside.

It's always interesting to hear about the different paths to publishing! Which books have you enjoyed working on this past year?
My favourite book of the year has been We Begin at the End by Chris Whitaker. It was the Waterstones Thriller of the Month for August and I can't shout about it enough. It's a beautiful story about a young girl trying to protect her brother from the life around them. It's sold in Croatian, French and German, and I've no doubt it'll soon sell over the rest of the world.

Then there's The Other Passenger by Louise Candlish, a top-rate thriller (Louise is a master of the genre) which I absolutely love. Film and TV rights have just been snapped up by US director Joe Gomez, and rightly so.

What about books you don't work on? Have you read anything especially good since we've been stuck at home?
I recently read Jonathan Strange & Mr Norrell by Susanna Clarke, which is as brilliant as everybody says it is, and Wolf Hall by Hilary Mantel, who is clearly a genius.

Wolf Hall? More like Woof Hall, am I right? Oh, I'm too much. Thanks for talking to me today, Cal!