By
Carl the pooch
Translation Rights | Nov 26, 2020
Carl's Blog #4: Pass the Pupkin Pie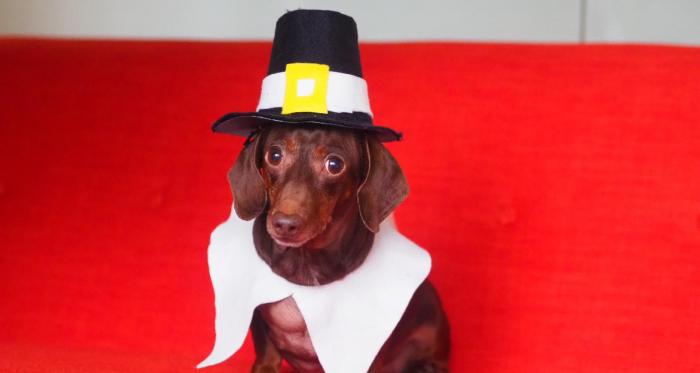 Dear readers,
Today is Thanksgiving! It is, in my humble opinion as an American pooch, the best of all holidays: full of family and food, with none of the pressure that comes with gift-giving. While the circumstances of this bizarre year mean that the meal will be smaller (or the leftovers will last a week longer) and all political debates with that one relative will be virtual ("Sorry Uncle Henry, you froze for a second…now what were you saying about the illuminati lizard people?"), there's still plenty to be thankful for. So, as I do every year, I've summoned my scribe and dictated the following list of things that make my tail wag:
1. Bonnie Garmus and her respectful portrayal of the canine mind
The Curtis Brown/ICM team had an incredibly successful/exhausting Frankfurt last month, the natural highlight of which was Bonnie Garmus' smash-hit Book of the Fair, Lessons in Chemistry. Finally — finally! — a book that depicts the deep and nuanced levels of thinking that can occur in the canine mind. The dog in question, Six-Thirty, was a blessed departure from the usual dumbed-down portrayal with which we dogs are usually tarred, and I'm thrilled that he will be translated into 30 languages (and counting).
2. The wonders of modern dentistry
I'm officially a 'senior' dog now, and as such, my trips to the dreaded vet are more frequent than in my puppy days. I had to have several teeth extracted during lockdown — no pain in life equates to the brutality of an impacted canine molar — but luckily I'm now able to eat a full Thanksgiving meal of buttermilk-brined turkey with all of the trimmings (I prefer my sweet potato to be topped with candied pecans instead of marshmallow; I'm not a beast! Ok, I am literally a beast, but...).
3. The Booker Prize
There was, sadly, a dearth of books about animals on this year's Booker Prize shortlist but we did get the next best thing: a Booker Prize win for the extraordinary debut novel Shuggie Bain by Douglas Stuart, the second year in a row that the prize has been won by an author in the Curtis Brown family. I have always had an affinity with Scotland — I believe there might have been some Scotch heritage on my great-grandmother's side, and I spent a lovely weekend in Edinburgh a few years ago — and so I was particularly delighted with Douglas' win.
4. No more Zoom socialising
As regular readers will know, my main medium is the written word and thus all of this Zoom interaction has been tedious at best and at worst, intolerable. Therefore, I am thankful that for Lockdown 2.0 my Zoom screen time has been limited to a few selective meetings with key clients and strictly NO SOCIALISING. And don't even get me started on that banana bread making frenzy of Lockdown 1.0.
5. My esteemed colleagues
We have been working from home for nearly nine months now and without trips to the office to escape his company, the relationship with my co-worker/frenemy Mike the Cat has really started to strain. I miss being fussed over in the office, having some actual adult conversation with colleagues who have never tried to steal my bed near the radiator, and the buzz of being in the West End, where I would sometimes be asked to pose for photos with tourists. With the news of a vaccine looking brighter every day, it won't be long until I am surrounded by my lovely, warm, wonderful co-workers once more.
And, of course, I am thankful for you, my dear readers. I'll be posting more blogs over the next few months, so keep an eye out for the latest news from the Curtis Brown/ICM Translation team. For now, I wish you a very happy Thanksgiving.
Carl x