By
Carl the pooch
Translation Rights | May 24, 2021
Carl's Blog #6: Making Your Mind Pup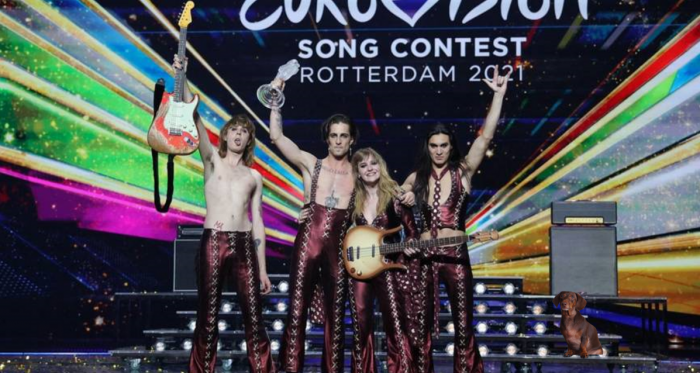 Good evening Europe!
I have just awoken from a long nap, following my favourite weekend of the year: Eurovision. The house remains strewn with flags, bunting, and the traditional buffet of lazy, stereotyped foods from across Europe (baklava and paella, anyone?). My favourite entries were France and Lithuania, but a special mention must be made for San Marino, who – although one of the smallest countries in the world – managed to persuade Flo Rida to make his Eurovision debut; I salute you. Being of Czech heritage I was saddened that our entry didn't make it through to the Grand Final, but I chose to look on the bright side: at least I'm not British.
From nul points to douze points, last week the Babelio Prize shortlists were announced in France and we had a fantastic number of CB/ICM authors present. Claire Keegan's Small Things Like These (Sabine-Wespieser Editeur) and Kate Elizabeth Russell's My Dark Vanessa (Editions Les Escales) are shortlisted for Foreign Literature, and Audrey Alwett, Marie Pavlenko and Flore Vesco, all clients of our very own Roxane Edouard, are listed across the other categories! Congratulations to all.
This month I'm thrilled to present the first author interview from our ICM list, Everina Maxwell, whose debut novel Winter's Orbit published in February. Do enjoy!
Written in fatigue,
Carl x

Carl sits down with... Everina Maxwell
Everina grew up in Sussex, UK, which has come a long way from the days of Cold Comfort Farm and now has things like running water and Brighton Pier. She now lives in West Yorkshire. Her first novel, Winter's Orbit, began life on the website Archive of Our Own and was published by Tor Books in February, with Orbit Books publishing in the UK. A stunning queer space opera, Winter's Orbit follows a scandal-prone prince and a dutiful scholar who are forced into a political marriage to prevent an interplanetary war. Brazilian rights have sold to Companhia, free elsewhere.
Carl: Firstly, huge congratulations on the success of Winter's Orbit! How has the journey been for you? Was it strange to see your work go from first being posted on a website to becoming a fully published book?
Everina: It was very cool to launch the book in physical form. It was also great to work with publishing professionals to make it the best it could be, while still preserving the romance at the heart of it that readers originally connected with. I'm always so happy to get messages from readers who have followed it from online story to published novel.
The world of your novel is built brilliantly, featuring people of different races, genders and classes, as well as a romance between two men at the heart of the story – was presenting such a diverse world important from the beginning?
One advantage of science fiction is that you can present an inclusive world from page one. I loved writing a planet where some of the prejudices from our current society just don't exist - more possibilities for relationship arcs open up. It really makes you rethink gender roles as well: sometimes I'd automatically make a character a certain gender depending on their profession, and every time I'd have to stop and think, "Why did I do that?". It makes the first draft slower but I find the results very satisfying.
Have you been able to read much during the past tumultuous year? Have you discovered any new authors?
I've had a hard time concentrating but during lockdown I really enjoyed The Unbroken by C L Clark: always love some good fantasy politics. Others I've enjoyed are Light From Uncommon Stars by Ryka Aoki, Polaris Rising by Jessie Mihalik, and Division Bells by Iona Datt Sharma.
Looking ahead, what are you most looking forward to doing once the world is able to open up a bit more? And are you writing anything new?
I can't wait to get a proper haircut and eat my favourite noodles. As for my writing plans: more love stories in space!
And finally, I am always on the lookout for my fellow canine friends in books. Do you have a favourite dog in literature?
It has to be Sirius, the celestial-being-turned-dog from Dogsbody by Diana Wynne Jones - I support the slow and suspicious alliance he makes with the family cats!
'Slow and suspicious'? Sounds like an understatement. Thank you Everina!