Heritage | Jul 8, 2018
Colin Watson's Flaxborough series reissued by Prelude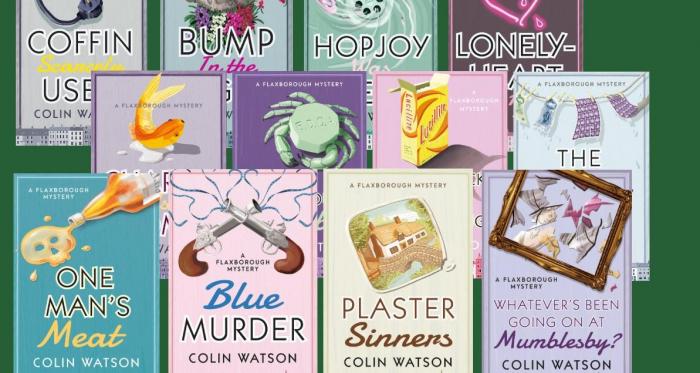 Colin Watson's twelve-part 'Flaxborough' series have been reissued by Farrago, an imprint of Prelude Books, with stylish new covers.

Affable but diligent Detective Inspector Purbright is tasked with uncovering the darker underbelly of greed, corruption and crime beneath the prosperous surface of Flaxborough town. This is a classic British series of police mysteries, laced with wry humour.

Coffin Scarcely Used, Bump in the Night, Hopjoy Was Here, Lonely-Heart 4112, Charity Ends at Home, The Flaxborough Crab, Broomsticks Over Flaxborough, The Naked Nuns, One Man's Meat, Blue Murder, Plaster Sinners and Whatever's Been Going on at Mumblesby? are all now available in print and e-book.

Praise for the Flaxborough series:
"Watson has an unforgivably sharp eye for the ridiculous." New York Times
"Flaxborough is Colin Watson's quiet English town whose outward respectability masks a seething pottage of greed, crime and vice … Mr Watson wields a delightfully witty pen dripped in acid." Daily Telegraph
"Arguably the best of comic crime writers, delicately treading the line between wit and farce … Funny, stylish and good mysteries to boot." Time Out
"A great lark, full of preposterous situations and pokerfaced wit." Cecil Day-Lewis
"One of the best. As always with Watson, the writing is sharp and stylish and wickedly funny!" Literary Review
"The rarest of comic crime writers, one with the gift of originality." Julian Symons
"Flaxborough, that olde-worlde town with Dada trimmings." Sunday Times