Actors | Jul 27, 2018
Curtis Brown at the Edinburgh Fringe 2018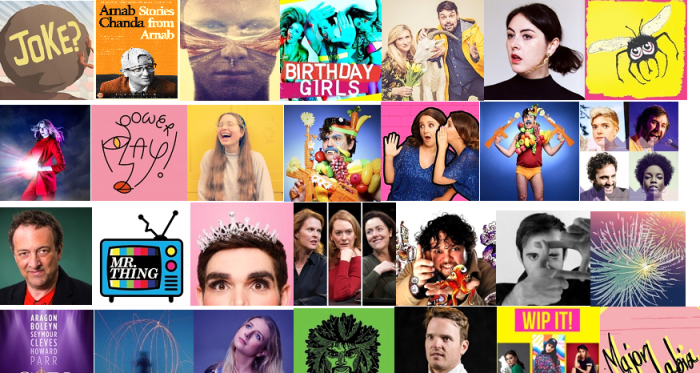 Curtis Brown at the Edinburgh Fringe 2018
The 71st annual Edinburgh Fringe Festival returns on 1st August 2018. Again, an array of Curtis Brown writers, directors, and performers, will be showcasing new and returning works in Edinburgh:
Alternative Comedy Memorial Society (ACMS) (John-Luke
Roberts)
Time: 23.55 Shows: 3-26th (not 8th, 15th or 22nd) Venue 396: Monkey Barrel Comedy Club – Monkey Barrel 1
Arnab Chanda: Stories from Arnab
Time 17.00 Shows: 4th-11th, 13-18th, 20-26th (incl) (no shows on 1st-3rd, 12th, 19th, 27th or 28th) Venue 156: Banshee Labyrinth – Cinema Room
Big Aftermath of a Small Disclosure (Mark Weinman).
Time 14.50 Shows: 1-12th, 14-19th, 21-26th Venue 26: Summerhall – Old Lab
Birthday Girls: Late Night Comedy
Time 23.00 Shows: 16th-19th August (1 hour 30 mins) Venue 33: Pleasance Courtyard-Cabaret Bar
Charlie Baker Presents: The Greatest Goat Of All Time
(Sam Battersea)
Time 15.00 Shows: 2-26th (not 21st) Venue 3: Assembly George Square Gardens- Piccolo
Elsie Thatchwick (Skye Lourie)
Time 18.30 Shows 3rd-14th & 16th-27th Venue 82: Zoo Southside
Time 20.30 Shows: 4 –24 August (incl) + 26th August (no shows on 25th, 27th
or 28th) Venue 33: Pleasance Courtyard – Pleasance Below
Flesh and Bone (Michael Jinks)
Time 22.00 Shows: 1-11th Venue 23: Pleasance Dome – King Dome
Flies (Les Enfants Terribles– Oliver Lansley)
Time 17.00 Shows: 1-27th (not 20th) Venue 33: Pleasance Courtyard – Pleasance Two
Time 17.05 Shows: 1-27th (no show on 13th) Venue 139: Assembly Rosy – Downstairs
Time 14.25 Shows: 1-26th (not 13th) Venue 12: The Stand Comedy Club – The Stand 4
John-Luke Roberts: All I Wanna Do is [FX: GUNSHOTS] With
a [FX: GUN RELOADING] and a [FX: CASH REGISTER] and Perform Some Comedy!
Time 17.30 Shows: 1-27th (not 15th) Venue 17: Assembly George Square Studios -Five
John-Luke Roberts: Terrible Wonderful Adaptations
Time 23.20 Shows: 10th, 17th, 24th Venue 23: Pleasance Dome – King Dome
Time 17.30 Shows: 1-26th (not 13th & 20th) Venue 33: Pleasance Courtyard –
Pleasance Forth
Mae Martin at Show And Tell At the Queen's Hall (compilation night)
Time 21.00 Date: 20th August (2 hours 30 mins) Venue 72: The
Queen's Hall
Time 15.30 Shows: 20-26th Venue 322: Assembly Checkpoint
Time 23.40 Shows: 1-26th (not 14th or 23rd) Venue 33: Pleasance Courtyard: Forth
Nina's Got News (Jessica Clark)
Time 14.50 Shows 1st-26th Venue 23: Pleasance Dome- QueenDome
Power Play: Funeral Flowers (Emma Dennis-Edwards)
Time 14.30 Shows: 4-6th, 8-13th, 15-20th, 22-25th (incl) (No shows on 1-3rd, 7th, 14th, 21st, or 26-28th) Venue 330: Pleasance Pop-up – Power Play HQ
Prom Kween (Rebecca Humphries)
Time 21.05 Shows: 4 –12th and 14 – 26th August (incl) (no shows 13th, 27th or 28th) Venue 3: Assembly George Square Gardens – Piccolo
Richard Soames: Let's Make a Movie
Time 15.55 Shows: 1-27th (not 13th) Venue 302: Underbelly Bristo Square – Buttercup
Roman Candle (written by Tom Fowler)
Time 16.00 Shows: 20th-25th Venue 236: Greenside @ Infirmary Street- Ivy Studio
Six (written by Toby Marlow and Lucy Moss)
15.30 & 19.30 Shows: 1-27th (not 13th) Venue 300: Underbelly George Square – Udderbelly
Sparks (written by and starring Jessica Butcher, directed
by Jessica Edwards and music by Anoushka Lucas)
Time 11.30 Shows: 1-7th, 9-12th, 14-19th, 21-26th Venue 33: Pleasance Courtyard – Beneath
Time 15.30 Shows: 4 –26th August (incl) (no shows on 27th or 28th) Venue 33: Pleasance Courtyard – Pleasance This
The Approach (written by Mark O'Rowe)
Time 13.25 Shows: 2-7th, 9-14th, 16-21st, 23-26th Venue 35: Assembly Hall – Rainy Hall
The Story Beast: This is Bardcore (John Henry Falle)
Time 22.40 Shows: 2-26th (not 13th) Venue 61: Underbelly Cowgate – Delhi Belly
The Story Beast: Myths Monsters & Mayhem (John Henry
Falle)
Time 15.50 Shows: 1-26th (not 13th) Venue 33: Pleasance Courtyard – The Green
Thor and Loki The Musical (Boadicea Ricketts)
Time 19.15 Shows: 1st-26th Venue 139: Assembly Roxy- Upstairs
Tom Walker: Honk Honk Honk Honk Honk
Time 19.45 Shows: 1-26th (no show on 14th) Venue 302: Underbelly, Bristo Square - Jersey
Vulva La Revolution (Phoebe Frances Brown
– Major Labia)
Time: 22:50 Venue: Revolution on Chambers Street
Time 19.00 Shows: 4-25th Venue 148: PBH Southsider