Theatre, Film and TV | Dec 7, 2021
Ed Sinclair's Landscapers premieres on Sky Atlantic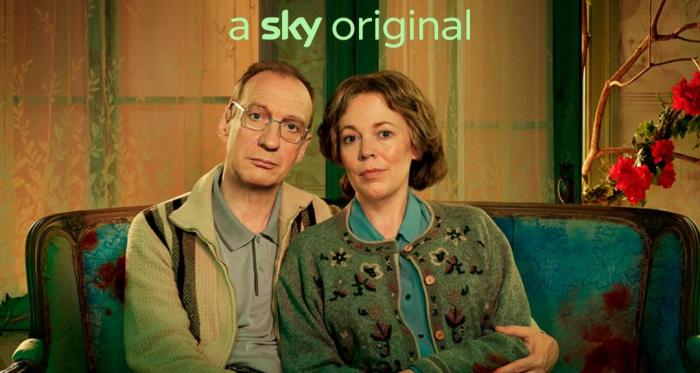 Landscapers premieres on Sky Atlantic at 9pm on Tuesday 7th December.
Created and written by Ed Sinclair, Landscapers centres on a mild-mannered married couple - who find themselves accused of murdering the wife's parents. An offbeat and thoroughly unique subversion of the true crime genre, Landscapers is an exhilarating and darkly funny exploration of love and fantasy: its power and its peril.
All four episodes of Landscapers are also now available to stream on Now TV.
Reviews for Landscapers:
"A blackly comic, tonally playful gem […] One of the best dramas of 2021" - ★★★★★ The Telegraph

"Landscapers is made with love and ambition, not prurience or snark. Rather than retreading grisly events, it immerses us in the lives of two complex people […] [Landscapers] is simultaneously funny, bleak and enormously moving" - ★★★★★ The Financial Times
"A rich, generous, clever, multi-textured thing [...] awards for Colman, Thewlis and the script must surely be given." - ★★★★★ The Guardian

"Sinclair's bold concept and script lift [Landscapers] well above the average crime drama" - ★★★★★ The Independent
"Completely unmissable" - ★★★★★ NME

"Landscapers really is special, a truly unique take on an awful tragedy which shouldn't lend itself to a comedy but has quite remarkably managed to do just that by being kind, poignant and unbeatably romantic" - ★★★★1/2 Metro
"Rich, thought-provoking art" – 9.1 Paste Magazine
"What might otherwise have turned out as another based-on-a-true-story series is instead relentlessly original" - ★★★★ The Evening Standard
"A treat to watch [...] Ed Sinclair has produced a fresh, zingy script." - ★★★★ The Times

"Writer/creator Ed Sinclair [invites] audiences to choose their own answer [about the central couple's guilt] by the end of the entrancing, cheeky, and even heartrending four-hour series" – B+ IndieWire