Theatre, Film and TV | Jul 14, 2017
Edinburgh Fringe Festival programme announced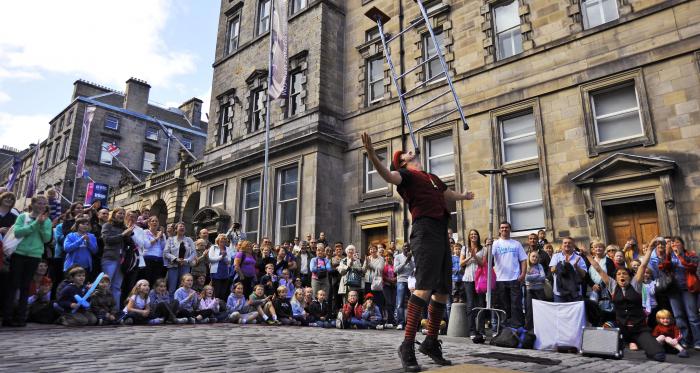 The annual Edinburgh Fringe Festival announces its program on 7 June. Again, an array of Curtis Brown writers, directors, and performers, will be showcasing new and returning works in Edinburgh.
Jenny Bede is returning to the Fringe with her brand spanking new show Eggtime. Following her sell-out debut and clocking up 3 million hits on YouTube, Jenny brings her unique style of musical comedy to the Pleasance Dome from Aug 2-13, 15-28.
Katy Brand enjoyed a sell-out run of I Was A Teenage Christian at Edinburgh Fringe 2016, which transferred to Soho theatre, followed by a UK tour. She is set to return to the Fringe with Katy Brand: I Could've Been An Astronaut. Katy's new stand-up comedy show will take place at the Pleasance Courtyard at 6.20pm on Aug 2-13, 15-20, and 22-26.

Jon Brittain's satirical drag musical, Margaret Thatcher Queen of Game Shows, will be showing at the Assembly George Square Gardens. The sequel to his Multi Award winning smash-hit, Margaret Thatcher Queen of Soho, can be seen at 9pm on Aug 3-13, and 15-27.
Written by Zoe Cooper and starring Nicola Coughlan, Jess and Joe Forever is showing on Aug 3-6, 8-13, 15-20, and 22-27 at the Traverse Two. Previously performed at the Orange Tree Theatre, the play is directed by Derek Bond and received three Offie Award nominations in 2016, including Best Female Performance for Nicola.
Seiriol Davies' musical How To Win Against History won five stars from Daily
Telegraph and Whats on Stage during its run at Edinburgh Fringe 2016. Seririol's hit show will return to the Fringe before transferring to the Young Vic later this year. It will be showing at Assembly George Square Gardens at 7.25pm on August 3-13, and 15-27.
After developing a sold out run of Torch with award-winning writer Phoebe-Eclair Powell in 2016, Jessica Edwards is returning to Edinburgh Fringe 2017 as resident director for drag supergroup, Denim. Jessica has directed DENIM: WORLD TOUR which will be shown at Underbelly Cowgate from August 5-27, each day at 9pm.
Harry Gibson's Trainspotting Live is set to return to Edinburgh Fringe 2017 for its third year in a row. The critically acclaimed show, that has adapted Irvine Welsh's classic into an immersive theatre experience, will be shown at the EICC in Edinburgh at 6pm and 7.45pm on Aug 2-8, 10-15, 17-22, and 24-27.
Rebecca Humphries has written Prom Kween, which will run at the Underbelly from August 3-27, each day at 8.35pm. Rebecca's comedy is a coming of age satire, for any kid who questioned what it meant to be beautiful.
What happens when you go from well-loved Geordie comedian to award-winning actor? Dave Johns, star of Ken Loach's I, Daniel Blake, returns to his comedy roots in I, Fillum Star, running at the Pleasance Dome Aug 3-14, 16-21, 23-27.

Adam Kay's 'electrifying' 2016 Edinburgh show, Fingering A Minor on a Piano, will return to the Fringe for two weeks from August 14-15, 17-22 and 24-29 at 8.30pm the Gilded Balloon. Adam's debut book, This is Going To Hurt, is inspired by the play, and will be published by Picador on 7th September 2017.

Richard Marsh is set to take his new show Todd & God up to the Pleasance Dome on August 2-14, and August 16-28, showing each day at 2.50pm. His critically acclaimed comedy Dirty Great Love Story won the Fringe First Award before transferring to Soho and New York, and most recently on the West End at the Arts Theatre.
Weruche Opia is starring in Alan Ayckbourn's The Divide, directed by Annabel Bolton. Alan's play will be shown in two parts, and can be seen at the Kings Theatre in Edinburgh on 8-20 August before it transfers to the Old Vic in London later this year.
After the success of its nationwide tour, Sue Perkins is bringing Spectacles, the live companion to her best-selling memoir, to the Fringe. Sue will be performing at the Pleasance Courtyard Aug 23-27.
Nominated for Best Show with At Large in 2016, Al Porter is returning to the Fringe with Campus Maximus, running at the Underbelly Med Quad Aug 12-27.
Fringe favourite Lucy Porter is returning to the Pleasance Courtyard with her brand new show Choose Your Battles. Lucy has enjoyed a year of touring with Consequences, her highly acclaimed show of 2016. Choose Your Battles will run Aug 2-15, 17-22, 24-27.
John Van Der Put's sensational Piff the Magic Dragon, is taking a break from his Vegas show to do a whistle-stop run in Edinburgh. After becoming a favourite on America's Got Talent, Piff's unique style of magical comedy has become a firm favourite both sides of the Atlantic. The Road to Piffland is at the New Town Theatre Aug 22-27.
Rosa Robson, who has performed for the Royal Shakespeare Company and ADC Theatre, will star in David Elms' musical, Siren. Rosa will be performing at the Pleasance Dome at 5.40pm from August 2-27.
Master of absurdist comedy, John-Luke Roberts returns this year to the Fringe with Look on My Works, Ye Mighty, and Despair! (All in Caps). He can also be seen in the Alternative Comedy Memorial Society (ACMS). Both shows are taking place at the Heroes @ Monkey Barrell Aug 3-15, 17-27 (Look on My Words) and Aug 6-9, 13-16, 20-23 (ACMS).
Jack Rooke will also be taking his new show Happy Hour to the Underbelly Cowgate following on from his critically acclaimed debut Good Grief. This can be seen on Aug 3 -13 and 15-27 at 5.20pm. Jack's comedy is set in the filthiest student, gay, wanky-exposed-brick-with-dangly-lightbulb bars, exploring why some mates leave the party and never ever come back.
Oliver Lansley's acclaimed theatre company Les Enfants Terribles and its sister company Les Petits return to the Fringe with The First Hippo On The Moon, adapted from David Walliam's book of the same name. The play will run at 12.00pm at the Pleasance Courtyard from 2 - 20th Aug.
The Edinburgh Fringe Festival will take place from 4 Aug – 28 Aug 2017.