Translation Rights | Sep 23, 2011
Jonathan Dee wins St. Francis College Literary Prize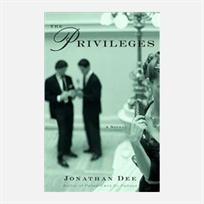 Jonathan Dees' novel The Privileges has been named as the 2011 winner of the St. Francis College Literary Award at a ceremony held during the Brooklyn Book Festival. He received $50,000 in prize money.
The Privileges chronicles the changing relationship between Adam and Cynthia Morey, a couple who married young and quickly began a family. Adam is a rising star in the world of private equity and becomes his boss's protégé. With this fact, a beautiful home, gorgeous children and plenty of money, they are successful according to any reasonable standards.

However, as Cynthia, at home with the kids day after identical day, begins to drift, Adam is confronted with a decision that tests how much he is willing to risk to ensure his family's happiness and to recapture the sense that, for him and his wife, the only acceptable life is one of infinite possibility.
Dee's book rose to the top of the 116 entries for the bi-annual award, which is aimed at encouraging mid-career authors to continue honing their craft. Alongside this, Dee will also be invited to return to St. Francis College for a reading from The Privileges and to conduct a writing workshop with students.
The award was first held in 2009, with Aleksandar Hemon walking away with the prize. The jury for the 2011 award was composed of award winning writers Francine Prose, Rick Moody and Darcey Steinke.
Dees' novel has proven a success in both the USA and the UK, with rights also having been sold in Italy, France, Spain and mainland China.