Heritage | Oct 10, 2020
Josephine Bell's THE PORT OF LONDON MURDERS joins British Library list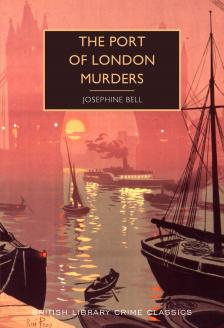 British Library Crime Classics haved added Josephine Bell's 1930s thriller, THE PORT OF LONDON MURDERS, to their list.
When the San Angelo drifts into port in the Thames Estuary, telephones begin to ring across the capital and an intricate series of events is set in motion. Beset by dreadful storms in the Bay of Biscay, the ship, along with the 'mixed cargo' it carries, is late. Unaware of the machinations of avaricious importers, wayward captains and unscrupulous traders, Harry Reed and June Harvey are thrust together by a riverside accident, before being swept into the current of a dark plot developing on the dockside.
A moody classic set around London's historic docks published in 1938, Josephine Bell's unique and atmospheric writing shines in a mystery weaving together blackmail, bootleg lingerie and, of course, murder.