Presenters | May 6, 2011
Charlie Higson and Paul Whitehouse tackle dementia in Ancient Mysteries for Radio 4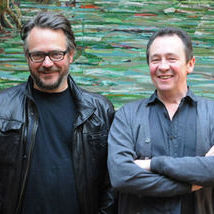 Charlie Higson and Paul Whitehouse have produced and contributed to a series of readings highlighting the lives of dementia sufferers in Ancient Mysteries, read on Radio 4's Woman's Hour from the 9th of May at 10.45am.

Adapted from Ancient Mysteries and Tell Mrs Mill her husband is still dead (compiled, edited and published by David Clegg), the series of monologues have been developed from the range of interviews Clegg did with dementia sufferers in which he asked them to recall their lives. These intimate portraits not only shed some light on dementia as a condition but also the characters living with it. The pieces are funny, sad, moving and mysterious in what they reveal about the human spirit and mind.

Woman's Hour Drama presents the series of readings from these books, read by a cast of actors including: Charlie and Paul themselves and Richard Briers, Anne Reid, Amelia Bullmore, John Woodvine, Kathy Burke, Felix Dexter, Brigit Forsyth, Rosie Cavaliero and Sian Phillips.

Produced by Paul Whitehouse and Charlie Higson for Down The Line Productions, a different reading of Ancient Mysteries will air each day at 10.45am and 7.45pm between the 9th and 13th of May on BBC Radio 4.