Books | Sep 19, 2008
Eva Ibbotson up for Astrid Lindgren Award 2008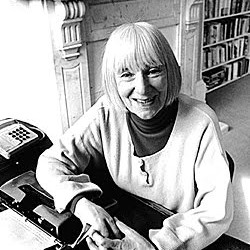 Eva Ibbotson has been nominated for the £410 000 Astrid Lindgren Award 2008, alongside seven other British candidates, including author Michael Morpurgo and illustrator Quentin Blake.
The prize is awarded in recognition a body of work which "upholds the highest artistic quality and evokes the deeply humanistic spirit that Astrid Lindgren treasured".
The Swedish government set up the award following the death of Pippi Longstocking author Astrid Lindgren in 2002, aged 94. Last year's winner was Australian writer Sonya Hartnett, and other recipients include Philip Pullman, Maurice Sendak and Venezuelan book project Banco del Libro.
Authors from 60 countries were nominated this year, with a total of 152 nominations. The winner, picked by a panel of judges, will be announced in March 2009.