Books | Apr 28, 2009
Ibbotson a favourite with Childrens' Laureates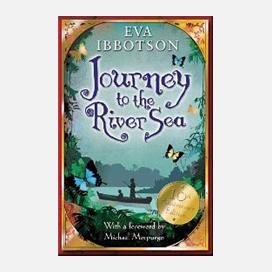 Eva Ibbotson's award-winning novel, Journey to the River Sea, has been selected to feature on a list of all-time greatest children's books, chosen by current Children's Laureate, Michael Rosen, and his four predecessors, Quentin Blake, Anne Fine, Michael Morpurgo and Jacqueline Wilson.
The works were selected for The Laureates' Table, a promotion at bookseller Waterstone's, which forms part of 10th anniversary celebrations for the Children's Laureate.
Journey to the River Sea, which won the Gold Medal for the 2001 Smarties Prize and was nominated for the 2002 Children's Whitbread Award, tells the story of an orphaned London schoolgirl and her formidable governess's journey to South America. Maia, accompanied by the straight-backed Miss Minton, leaves the familiar comforts of her boarding school to start a new life with distant relatives who live 1000 miles from the mouth of the Amazon. Both soon discover an exotic world bursting with new experiences beyond their imagination.