Actors | Mar 30, 2015
Oppenheimer drops on the West End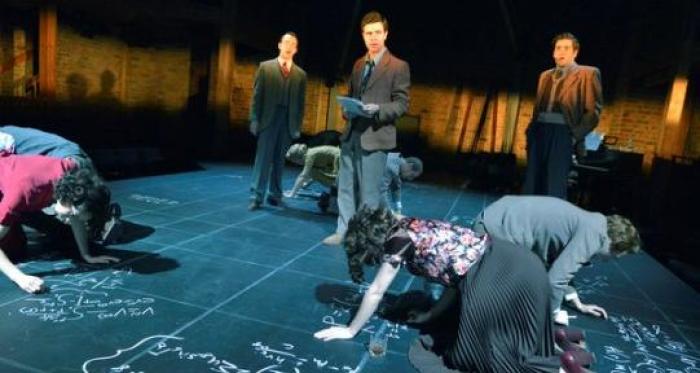 Oliver Johnstone and Daniel Boyd are joined by Bradley Hall in the Royal Shakespeare Company's acclaimed production of Tom Morton-Smith's bio-play Oppenheimer as it transfers to the West End.
Following a critically acclaimed, sell-out run in Stratford-upon-Avon, Oppenheimer transfers to the Vaudeville Theatre for a strictly limited eight week season. The play, which premiered at the Swan Theatre in January, tells the story of the ambitious scientist J Robert Oppenheimer, a man often referred to as "the father of the atomic bomb."
Appointed to spearhead the largest scientific undertaking if all of human history, Oppenheimer is determined to cast off his radical past and his tempestuous relationship with his wife to create the most devastating weapon the world has ever known - the implications of which he wrestles with throughout his life.
Oliver Johnstone continues in the role of scientific researcher Giovanni Rossi Lomanitz, one of Oppenheimer's young charges at work on the Manhattan Project. He was recently seen in the second The Inbetweeners Movie, a huge success at cinemas nationwide.
Daniel Boyd reprises the role of Joseph Weinberg, another one of Oppenheimer's students. He recently made his RSC debut in The Shoemaker's Holiday, having previously played the title role in Headlong's Romeo & Juliet.
Bradley Hall joins the cast as Klaus Fuchs. He returns to the West End after appearing in the Oliver Award-winning Goonight Mister Tom. Bradley has recently finished the UK tour of Headlong's Spring Awakening and can next be seen in the new adaptation of Thomas Hardy's Far From the Madding Crowd, alongside Tom Sturridge and Jessica Barden.
Oppenheimer opens on 31 March at The Vaudeville Theatre, and plays until 23 May.