Actors | Jul 5, 2013
Rosalie and Laura take on Macbeth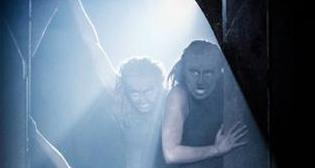 Rosalie Craig and Laura Elsworthy star opposite Kenneth Brannagh in Macbeth at the Manchester International Festival.
Rosalie plays Lady Macduff, wife of the noble Macduff, who is savagely murdered by Macbeth's men and Laura plays one of the Three Witches.
Later this year Rosalie will lead in the new and eagerly anticipated musical
The Light Princess
at the National Theatre. Laura recently starred in
Cooking with Elvis
at the Derby Theatre.
Directed by Sir Kenneth Brannagh and Rob Ashford, Macbeth is to be performed in an intimate deconsecrated Manchester church. The play will be broadcast in cinemas across the country in association with National Theatre Live on the 20th July.
Dominic Cavendish of The Telegraph awards Branagh's production 5 *s and names it as a 'thrilling, cinematically fluid account of Macbeth'.
Griselda Murray Brown of FT also gives Macbeth 5*s and declares that 'Branagh and Ashford get to the terrifying heart of Macbeth's mystery and bleakness. The large cast is superb and the pace never flags'.