Actors | May 1, 2012
Sony Award Nomination for Charlie Higson and Paul Whitehouse's Down the Line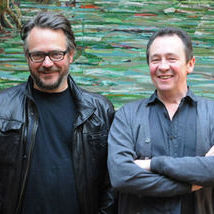 Charlie Higson and Paul Whitehouse's Radio 4 series, Down the Line has been nominated in the category of Best Comedy for The Sony Radio Awards 2012.

Charlie and Paul co-wrote and performed in the spoof radio phone-in, which saw radio presenter Gary Bellamy (Rhys Thomas) host the call in show, talking to various eccentric characters from across the UK. The team were so convincing in the spoof that several Radio 4 listeners actually called the station to comment and complain to Gary about provocative views expressed on the show.

Down the Line was adapted for television in 2010 under the title, Bellamy's People.