Actors | Jan 24, 2022
The Responder premieres on BBC One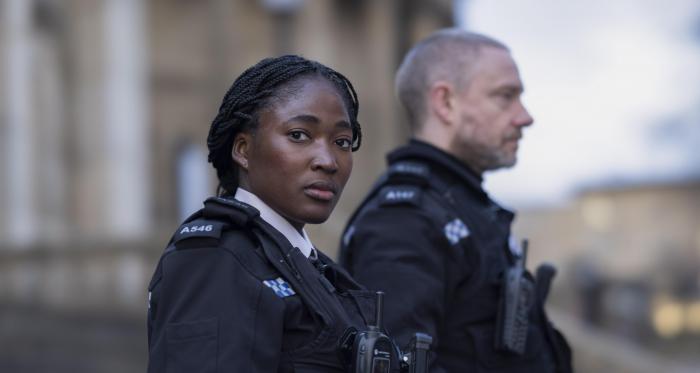 The Responder premieres on Monday 24th January at 9pm on BBC One.
Directed by Tim Mielants, the new series stars Adelayo Adedayo as Rachel with Kieran Urquhart as Paul and Christine Tremarco as Dr Diane Gallagher.
Penned by ex-police officer Tony Schumacher, this is his first original series for television and he's on familiar ground as he focuses on the emotional extremes of life on the front line of British policing.
The Responder follows urgent response officer Chris Carson (played by Martin Freeman) on a series of five night shifts on his beat in Liverpool. As his personal life is hit by crisis, Chris is forced to take on rookie partner Rachel (Adelayo Adedayo). Despite his reluctance they both soon realise that survival in the high-pressure world of night-time crime will hinge on whether they can support or destroy each other.
The first episode will be available for catch up on BBC iPlayer shortly after the first broadcast.
Praise for the series:
'The Responder is as fast and riveting as a thriller and as harrowing as a documentary…If you are looking for a state-of-the-nation piece, it is here.' ★ ★ ★ ★ ★ – The Guardian

'The Responder feels absolutely authentic…a superb piece of work' ★ ★ ★ ★ ★ – The Telegraph

'Authentic, propulsive, funny and powerful, this already feels like a contender for the best police drama of the year.' ★ ★ ★ ★ ★ – Evening Standard

'The material is approached from an angle that feels fresh, raw and utterly compelling'
'The Responder is a sophisticated look at modern police work' ★ ★ ★ ★ ★ – Radio Times

'[It] brought what lifelong pen-pushers cannot to the cop genre: jagged authenticity'
'Electrifying…[a] knockout piece of drama' ★ ★ ★ ★ – The Times

'Martin Freeman's damaged antihero will get under your skin' ★ ★ ★ ★ – inews