Books | Oct 22, 2012
The Road shortlisted for the Best James Tait Black Award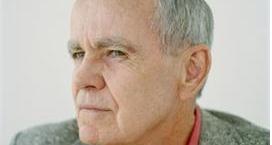 Cormac McCarthy has been shortlisted for the Best of the James Tait Black Prize for his book The Road.
The award celebrates the best of the fiction winners over the past 93 years since the prize was established in 1919 and has been created to celebrate the 250th anniversary of the English literature study at the University of Edinburgh.
The Road, published in 2006, won the James Tait Black memorial prize in 2007. Set in a post-apocalyptic America, the novel describes the journey of a father and a son and the bond they share in a world where a disaster has occurred reducing the terrain to a burnt-out cinder inhabited by the last remnants of mankind. The Road won the 2007 Pulitzer Prize for Literature and was adapted into a major motion picture starring Viggo Mortensen and Guy Pearce in 2009.
The winner the Best of the James Tait Black Prize will be announced in December. Also shortlisted are Nights at the Circus by Angela Carter, The Heart Of The Matter by Graham Greene, A Disaffection by James Kelman, Crossing The River by Caryl Phillips and The Mandlebaum Gate by Muriel Spark.