Books | Sep 16, 2020
The Women's Prize Trust, Curtis Brown, Curtis Brown Creative and NatWest open the Discoveries programme.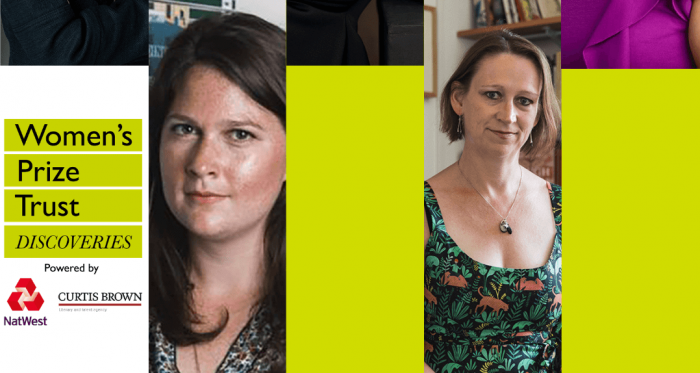 Entries are now open for Discoveries, a programme led by the Women's Prize Trust, Curtis Brown, Curtis Brown Creative and Natwest, which invites women of all ages and backgrounds to submit their work of fiction. The programme doesn't require writers to have finished a novel – only the opening three chapters or up to 10,000 words – and it is free to enter.
The judging panel is chaired by author and founder of the Women's Prize Kate Mosse. She will be joined by author Abi Daré; Director for Nottingham UNESCO City of Literature Director Sandeep Mahal; Curtis Brown literary agent Lucy Morris; and founder and MD of Curtis Brown Creative writing school Anna Davis. They will select a longlist of 16 and a shortlist of 6 writers before selecting an overall winner.
Kate Mosse says: "I'm honoured to be Chairing the Discoveries panel – with such fantastic fellow judges – and can't wait to start reading. Somewhere out there, our Women's Prize winner of the future is considering whether to pick up her pen – to her I want to say: do it. We're here to help you on your way. The Women's Prize has always championed female writers to tell their own stories and make sure their voices are heard. Whether you're 18 or 88, the beginning of one's writing journey is a crucial time, so let us show you the way."
Abi Daré says: "This is a crucial competition for these times, and with an ever increasing need for female voices to be heard, I feel very privileged, and honoured to be part of the judging panel for the Discoveries Prize. I am looking forward to reading and discussing entries that provoke, inspire and engage, in the hope of discovering and championing some new and incredible female talent."
Sandeep Mahal says: "Discoveries is a pioneering programme. It will support and encourage the most talented new voices from a whole range of backgrounds and help make their work shine. I am honoured to have been asked to take on the role of judge, and I can't wait to dive in and read the entries."
A longlist of sixteen and a shortlist of six writers will be selected by a judging panel, with the winner offered representation by Curtis Brown Literary Agency and a cash prize of £5,000. All longlisted and shortlisted authors will be offered personalised packages of mentorship from a Curtis Brown agent or industry expert tailored to their individual needs, and free or discounted places on Curtis Brown Creative's creative writing courses.
Throughout the submissions process, the Women's Prize Trust, NatWest, Curtis Brown Literary Agency and Curtis Brown Creative Writing School will curate a programme of free online content across their platforms. This will include everything from interviews with publishing industry professionals to practical advice and inspiration from former winners and shortlistees of the Women's Prize for Fiction, as well as a series of teaching notes by Curtis Brown Creative Writing School to help writers craft their submissions.
Lucy Morris and Anna Davis say: "A brilliant writer can come from anywhere. She can be any age and of any background. Finding, supporting and developing emerging talent from first pages to long-term writing careers is at the very heart of both the Curtis Brown Literary Agency and the Curtis Brown Creative writing school. We are thrilled to be partnering with the Women's Prize Trust and NatWest to champion regionality, inclusivity and accessibility with the launch of Discoveries."
Discoveries is now open for submissions.

The closing date for submissions will be 17th January 2021.The longlist and shortlist of Discoveries will be announced in the spring of 2021 and will be invited to attend the 2021 Women's Prize for Fiction award ceremony in summer 2021.