Actors | Sep 10, 2015
This is England '90 cast come together for series finale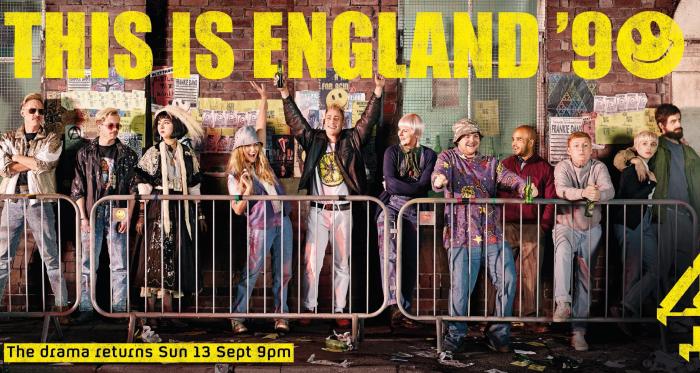 Chanel Cresswell, Andrew Ellis, Ciaran Griffiths, Nick Preston and Andrew Shim all come together for the final series of This is England - Shane Meadows' acclaimed historical drama.
This Is England '90 is the final part of the ' franchise that began in 2006 with Meadows' hit film of the same name that followed a group of Nottingham skinheads in 1983 against a background of simmering tension in the community. Since then, there have been two further miniseries, This is England '86 and '88, all of which featured the original cast, including Chanel Creswell, Andrew Ellis and Andrew Shim - all of whom reprise their roles. The new drama plunges the gang into the emerging rave scene at the turn of the decade.

Chanel returns as Kelly, the younger sister of Lol. At the close of the previous series Kelly had been left distraught following the death of her father. At the opening of This is England 90' she is still struggling with the events of the recent past and starts to experiment with drugs. Chanel has also recently reprised her leading role of Katie in the new series of Sky 1 comedy Trollied.
Andrew Ellis reprises his role as Gadget, a member of Woody's gang with wavering loyalties due to his treatment by Woody. Andrew has recently appeared in Jimmy McGovern's Common for the BBC and has reprised the role of Gadget in all 4 of the Shane Meadows This is England features.
Andrew Shim returns in the regular role of Milky, a role he originated when the series first hit our screens. Last year saw Andrew filming the role of Jason in Rev Travis' feature film Anti-Social.
Ciaran Griffiths stars in the guest role Leon, a new drug dealer on the block. Ciaran could recently be seen in the BBC's long-running drama Moving On and in Johnny Capps' TV series Atlantis.
Nick Preston plays Mark 'Crutch' Crutchly. Crutch is a young drug dealer who supplies Kelly with copious amounts of 'gear'. Nick most recently shot a guest role the forthcoming 'cop' drama series Cuffs for BBC1, with his other screen credits including Our Girl (BBC One) ; My Mad Fat Diary (E4); and The Village (BBC One).
This is England '90 starts on Sunday 13th September at 9pm on Channel 4.