Actors | Sep 21, 2011
Wendy Nottingham reunites with Mike Leigh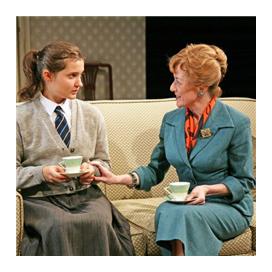 Wendy Nottingham has reunited with Mike Leigh for the highly-anticipated world premiere of Grief at The National Theatre.
This highly collaborative production, created using Leigh's unique devising process that relies heavily on improvisation by the cast, is the auteur's first new play since Two Thousand Years, also at The National Theatre, in 2005.
Wendy's previous work with Mike Leigh includes the award-winning Vera Drake and Topsy Turvy.
Both The Evening Standard and The Guardian have described the acting on show as "superb," while Michael Coveney, writing for Whatsonstage.com, singles out "Wendy Nottingham's prim, increasingly acid Muriel."
The production has gained a string of rave reviews with four stars in The Independent, the Daily Telegraph, Financial Times and Time Out. The Stage has praised it as "taught, tight and brilliantly controlled" while the Independent on Sunday describes it as "extraordinarily poignant."
Grief runs at The National's Cottesloe Theatre from the 20 September until the 28 January 2012.